"I Could Be A Good Waterboy"
June 4th, 2015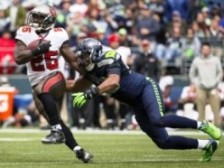 Don't dare tell running back Mike James that last season was a down year for him.
Just the opposite, he passionately explained today after practice.
Yes, James was buried on the bench and was relegated to occasional short-yardage duty under Lovie Smith. His last action came in Week 10 against Atlanta, four carries for 16 yards
But speaking to Joe today, James wanted to remind fans that his versatility is alive and very well.
"I still got it. I still can do everything," James said. "I don't know what's going on; everybody thinking I can't do it all. I still got it. Alright. That never went away. Still can catch the ball, still can block, still can, you know, play tailback, fullback, a little receiver, a little tight end, a little h-back. I can do it all, and that's going to help me. That's going to help me. Special teams, defense if they need, whatever. I can be a great guy. I could be a good waterboy. I can do anything you ask me to do."
Damn, is there any doubt why the last regime likened James to Earnest Graham?
James said he emerged from 2014 a much better player and man.
"It really taught me a lot last season," James said. "And I can't look at it as a negative because it humbled me, taught me patience, you know, and it really evolved me as a man, which is making me a better player.
"Oh, man. It's propelled me. It moved me. You know what I'm saying. I'm thankful for last season, even thought it wasn't like we all wanted it to be, like I wanted to be, I'm sure anybody who was a Bucs fan didn't want it to be that way. But I know personally, speaking for me, it helped me in a lot of ways."