Fake Jameis
June 21st, 2015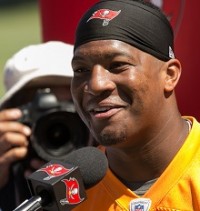 Joe's been studying Jameis Winston closely since attending his first college game in Pittsburgh, long before he was "America's Quarterback."
And Joe's enjoyed scrutinizing Jameis at the NFL Scouting Combine and at Bucs practices. Joe's comprehensive Tuesday minicamp practice notes referenced a poised pump fake and subsequent completion over the middle to wide receiver hopeful Adam Humphries. Jameis appears to throw a tighter, stronger ball when he does this.
The Buccaneers appeared intrigued by this, too, and shared the Jameis fake-and-throw via the YouTube video below.
It's stuff like this, on Father's Day, that has Joe aching to see Jameis perform against real competition. Tampa Bay kicks off the preseason in Minnesota in 55 short days.
(Astute observers will note that Jameis ridiculously is performing with second- and third- teamers.)