Defensive Excuses Fading Fast
June 21st, 2015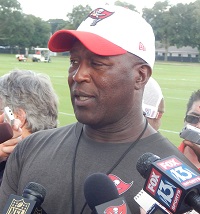 When Joe saw Jameis Winston's first two passes against the Bucs' first-team defense in practice on Wednesday, they didn't just remind Joe that Jameis is a rookie, they were reminders that the Tampa Bay defense is out of excuses.
Jameis's first throw, a five-yard fire to his right, was intended for Austin Seferian-Jenkins, but Alterraun Verner got his hands on the ball — enough to call it a near interception.
On the next snap, Jameis threw deeper to the right. But 10 yards off the line of scrimmage, Lavonte David skied to snatch the ball out of the air. It was a lightning-quick read and reaction, the kind of interception a linebacker makes when he's comfortable in a defense.
Verner jumped on SiriusXM NFL Radio after minicamp wrapped up and talked about how every aspect of the Bucs defense is better in practice, from speed, to the collective jelling, to the health of defensive players. Verner speculated that no defensive player has missed a snap during the spring.
And this is why Joe can't give Lovie Smith and Leslie Frazier any rope this season. It shouldn't take three years to build a good defense when you have two Hall of Fame caliber pieces in David and Gerald McCoy, plus solid (at least) cornerbacks and strong quality on your interior line.
Yes, yes, by October, Lovie and Frazier might be able to claim they don't have a quality edge rusher. But if that's the case, then make adjustments and don't cling to the system like Joe hugs his last beer after 3 a.m.
Utilizing talent you do have is the essence of coaching.
The Bucs have enough talent — and experienced coaching — to be a top-15 defense. No excuses.