Bucs Still Selling Jameis Winston's Character?
June 8th, 2015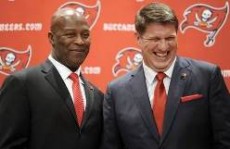 Joe thinks there's an unfair talking point spinning in various media circles.
Mike Florio, of ProFootballTalk.com and NBC Sports, has repeatedly been saying on his radio and TV show that the Buccaneers intentionally are going overboard selling the work ethic and character of Jameis Winston, America's Quarterback. Even a month after drafting him, Florio says, the Bucs haven't let up.
Rick Stroud, the longtime Bucs beat writer for TampaBay.com, agreed with Florio on national radio Friday.
Stroud quipped that the Bucs revealed specifics on Jameis' long office hours at One Buc Palace, a tip-off that the team is sending a message, too.
"They want everyone to know they have to push him out, that he's there until 6 o'clock at night, which is about an 11- or 12-hour day in the offseason, which is a lot." Stroud said.
Stroud added that type of chatter is a continuation of a sales job for Jameis that started several weeks before the NFL Draft.
Joe just can't go there. Simply stated, Joe merely sees Bucs officials answering questions about Jameis, not going out of their way to prop up the rookie in an orchestrated fashion.
Joe's not seeing features on Buccaneers.com about how Jameis spends his days, or any commentary that Jameis is doing anything out of the ordinary for a dedicated rookie. Heck, there hasn't even been any chatter about how Jameis is transforming his body or spending personal time making extra throws, for example.
The Bucs are not engaged in some sort of propaganda war. Lovie Smith, by nature, is America's most positive head coach. Just listen to the near nonsense the guy was spouting in November and December last year.
What you're hearing about Jameis is a by-product of a glass-half-full leader. Nothing more.