Bucs Return To Tallahassee
June 4th, 2015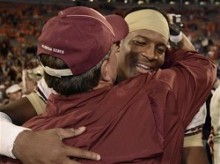 Once upon a time, Joe lived just outside of San Francisco when Joe Montana joined the Chiefs.
Talk about a firestorm of emotions pulsating through a sports town. Wow.
One huge story there in those pre-Internet days was a local radio station buying the rights to air Chiefs games — and it had advance sold a bunch advertising.
Joe was reminded of that this week after learning the Bucs are returning to Tallahassee. More specifically, radio broadcasts of Bucs games are coming back.
They didn't air there last year. Locals weren't sold on Josh McCown, apparently, like Lovie was.
Joe's happy for the Tallahassee faithful and the legions of Jameis Winston fans that will get to listen to America's Quarterback play ball on 93.3FM. Sadly, there's no guarantee Bucs games will be on local TV up there.