Bucs Can Trade Tim Wright Starting Friday
June 13th, 2015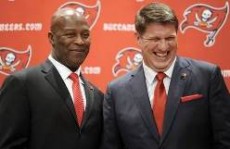 Joe is happy the Bucs claimed tight end Tim Wright on waivers yesterday. The former Buccaneer is a good, young football player and instantly drops a competition bomb in the tight ends room, and his presence and versatility might scare a few receivers, too.
That's always a good thing.
But Joe also smells opportunity.
Per NFL labor rules, Wright getting claimed by the Bucs after the Patriots dumped him does not mean Tampa Bay is locked in to Wright. The Bucs only have to keep him on the roster for seven days.
Winning the Chase for Jameis armed the Bucs with not just America's Quarterback, but the Bucs won the right to claim any waived player first. Jason Licht is making full use of that weapon. Multiple claims have been made, including safety D.J. Swearinger, a former second-round pick.
Maybe the Bucs want Wright, but there's also a chance they're short-term investing here. A trade market will evolve for the durable Wright, who has caught 11 touchdowns and a lot of footballs in his first two seasons.
Joe would love to see Wright stick around a while, but Joe would also be pleased to see Wright dumped for a decent draft pick.