Buccaneers Night Practice Gets Dumped
June 23rd, 2015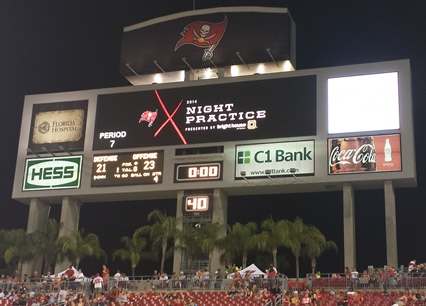 What about the night practice? What about the night practice?
Joe's inbox is full of fans wondering what's missing from the 2015 training camp dates and times pumped out today from One Buc Palace.
There is no night practice at the stadium on Dale Mabry Highway. It's been scrapped. That's the word from Buccaneers.com multimedia master Scott Smith, via Twitter.
Smith says the team is focusing on enhancing the experience at One Buc Palace.
Of course, training camp is much more intimate and realistic at Bucs headquarters, and it always seems like the team gets better work in there. The annual stadium practice, with fireworks and all kinds of fan-friendly action on the stadium field, was good for roping in 20,000 or so Bucs fans and getting them all amped up for the season.
Joe could speculate all day long why the Bucs ditched the night practice. It doesn't really matter, expect to the legions fans who loved the comfortable experience in late evening temperatures.