Barber Says Easy; Tillman Says Hard
June 24th, 2015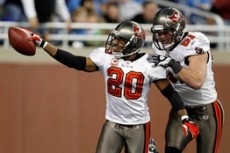 Remember when Ronde Barber verbally gutted the 2014 Tampa Bay Buccaneers on national radio? Man, that was painful.
During the assault, Barber said the Bucs' Cover-2 is "the simplest defense possible."
That line really stuck with Joe because it flew in the face of claims by fellow Bucs icons Derrick Brooks and Warren Sapp, who spent much of last summer warning fans that the old school Tampa-2 defense had at least a one-year learning curve.
So which is it?
Ronde blasted the Bucs for repeating the same mistakes week after week. Of course, that disease could be attributed to a lot of things.
Legendary Bears cornerback and Lovie Smith student Charles Tillman now plays for the Stinkin' Panthers. After a minicamp practice last week, he talked about how the nickel cornerback in the Panthers defense (very similar to the Bucs') "is one of the hardest positions because you're never right." Interestingly, Barber played a ton of nickel and he thinks it's easy.
NFL performance is one heck of a perception game.
Lovie now has a virtual army of veteran defensive players experienced in his system. Challenging or not, the Bucs defense is out of excuses. Lovie even dared to tell Buccaneers.com he has the edge rushers he needs to be successful.