Barber Bashes Bucs Defense, Glennon
November 5th, 2014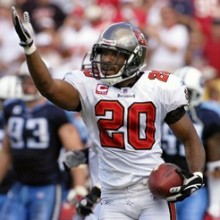 Ronde Barber is one frustrated Bucs icon.
Man, he let loose yesterday.
Barber is left in disbelief by what he's seen from the Bucs defense and the quarterback of the future, who is now the quarterback of the past.
"I watch all their film every week just because I'm selfishly still involved. They can't play Cover-2. It's the simplest defense possible, and they make the same mistakes over and over and over again," Barber said on the TBD in the AM show.

"And Mike Glennon has struggled. I mean he's struggled finding the right reads and open guys. He has trouble pulling the trigger. I mean, two weeks in a row gets sacked five times.

"There was a distinct chance they could have one three or four games this year, not that they deserved to win, but they could have. They just don't have whatever it is to push them over the edge to win close football games. Bad teams find a way to lose close games, and that's what Tampa is right now."
Wait a minute. Timeout! Barber said the Cover-2, aka Lovie's Tampa-2, is "the simplest defense possible." Then what's taking so long?
Derrick Brooks, by comparison, months ago said there would be a learning curve for the Bucs defense, though Warren Sapp swore to Joe that the genius system of Lovie Smith would straighten out Da'Quan Bowers and any other edge rushers on the Bucs.
Learning curve or not, Barber clearly is frustrated by the repeated errors.
Is it coaching? Is it personnel? Is it Lovie being too soft on players?
As for Barber being tough on Glennon, who would know better than Barber. The man was a film junkie for 16 playing season studying quarterbacks and coverages with some of football's greatest minds.