Winston's Clutch Factor Sold Lovie
May 1st, 2015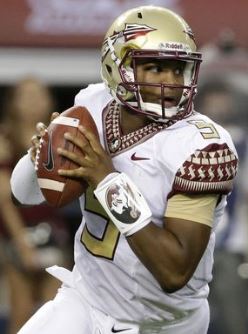 Time after time after time last year, new Bucs quarterback Jameis Winston found him and his Seminoles behind in the second half, sometimes, in part, thanks to Winston himself.
It didn't matter. Winston played like a modern day Joe Montana, rallying the Seminoles to win after win.
One of the millions who watched college football games on TV, in particular Florida State, was none other than Bucs coach Lovie Smith. And if one factor about Winston left a lasting impression upon Lovie, it was Winston's clutch factor, his veins of ice water, his nerves of steel, all the while performing with the legal sword of Damocles hanging over his head, which would freak out most mortals.
"We saw it," Lovie said. "I know this past year, of course, a lot of close games. You saw him in tough, pressured situation and when you get a chance to talk with him, he kind of relishes that role. He has a lot of confidence in himself and what he can do in his role on the football team. Again, every time you talk to him you see that a little bit."
Winston spoke about his magic tricks in the second half, none greater than rallying Florida State to a national championship win over Auburn a year ago, saying last night, "Pressure is no pressure."
Winston explained that his work and preparation eliminate pressure. As long as you are prepared for the moment by your work in the week prior to a game, pressure should not be a factor.