Winston Fits Bucs' Puzzle
May 15th, 2015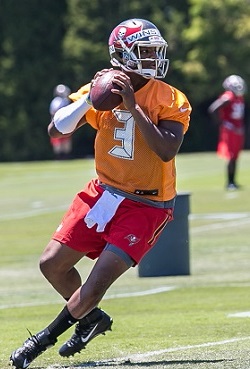 Joe scoffs at the wet nurses out there who didn't want the Bucs to draft a quarterback because the guy might bust out.
This just in: Any position might bust out. Roughly 50 percent of first-round picks are flops, regardless of position.
If you are scared to draft, then go all George Allen and trade away all draft picks (and brace yourself for a lot of losing).
Joe noticed a lot of folks wanted Bucs general manager Jason Licht to draft a defensive end. Funny, since the Bucs have swung and missed in the draft at that position more than any in recent memory.
Noted football analyst Louis Riddick of BSPN was not in the camp that thinks "America's Quarterback," Bucs signal-caller Jameis Winston, is the next Andrew Luck. But Riddick believes Jameis is one helluva talent. If Riddick had to lay cash on a rookie making it in the NFL, then he would drop money on Jameis because he fits the Bucs' offensive puzzle just about perfectly.
For starters, head coach Lovie Smith is universally respected in the coaching profession for his credibility as a leader, his competency in the X's and O's element of the game, and for his positive impact on the coaches and players around him. New offensive coordinator Dirk Koetter ran a multiple offense with the Falcons in terms of personnel groupings, formations and route designs, and those things aren't foreign to Winston after what he was asked to do at Florida State.

GM Jason Licht has titles on his résumé as both a coach and a front-office executive, so he knows what a successful program is supposed to look like. Moreover, he has surrounded Winston with the type of big, tall perimeter weapons that he likes (WRs Vincent Jackson and Mike Evans and TE Austin Seferian-Jenkins) and took two offensive linemen (Donovan Smith and Ali Marpet) in the 2015 draft who should upgrade a weak unit from 2014, particularly in pass protection.

If the Winston pick is to ultimately be a success, all of the listed variables will have to work in lockstep, creating an environment in which it is difficult for him to fail. Time will tell, but I think this match can work.
A lot of pressure will be put on the two rookie offensive linemen the Bucs drafted this month. They almost certainly will have growing pains and struggle to play like veterans.
If Donovan Smith and Ali Marpet can eliminate their rookie learning curves (both doing so seems a stretch), then it should be a smooth transition for Jameis. That is, as smooth as a rookie quarterback could hope for.