"Not Out Of The Question To Contemplate"
May 15th, 2015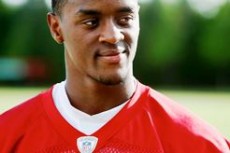 Why, why, why is Scott Smith of Buccaneers.com trying to give Joe a stroke on a sunny Friday afternoon?
Smith dared to suggest the unthinkable could happen in 2015.
Joe is referring to cornerback Mike Jenkins starting instead of Johnthan Banks. Smith got a question about Banks starting in the official Buccaneers Mailbag segment below. While confident Banks will keep his starting job, Smith said "it's not out of the question to contemplate" Jenkins winning the gig.
One of many things that got under Joe' skin about last season was Lovie Smith gifting a starting cornerback gig to Jenkins, and Lovie seemed to determined for him to keep that designation despite missing nearly all of training camp with an injury.
Joe couldn't make sense of it. At this point, Jenkins starting would be ludicrous, considering Banks had a good season and is on the rise.
The third-year man is versatile, and he's tough. The guy played through MRSA in his rookie season. His seven interceptions in 30 games outshines Jenkins' 10 picks in 87 games. And Jenkins, 30, just hasn't been a good cornerback in a long time.
Enjoy the video of Smith and lovely Casey Phillips.