"We're Going To Have An Effective Run Game"
May 10th, 2015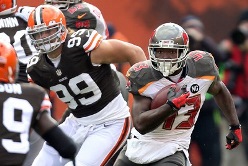 General manager Jason Licht, as Joe's written previously, really put a hefty pair of footballs on the table drafting Division III guard Ali Marpet in the second round.
Marpet and his fellow second-round pick, left tackle Donovan Smith, are pegged to start.
But Licht isn't stopping there. He's publicly predicting success for the Bucs' offensive line, an achievement that would represent serious improvement from 2014.
"We're going to have an effective run game," Licht told USA Today.
Whoa! Licht is talking big. The Bucs' running game was not effective outside of small spurts last season. In fact, it was quite ugly statistically after Week 2.
Joe's got his fingers crossed for the effective run game Licht speaks of. Right now, Joe would say precision, balanced playcalling by Dirk Koetter is the Bucs' best shot at a solid rushing attack, versus lining up and beating a defensive line.