Undrafted Signings Underscore O-Line Plan
May 5th, 2015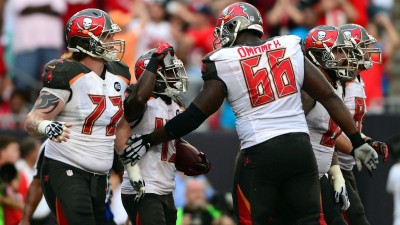 Joe would have been very satisfied if the Bucs drafted four offensive linemen last week.
That's how bad the O-line play was last year, and that's how critical it is to protect Jameis Winston.
But the Bucs only drafted two offensive linemen, didn't sign any during the primary and secondary waves of free agency, and they cut two guys who logged a load of snaps, Anthony Collins and Oneil Cousins.
So the when the Bucs released their new list of signed undrafted free agents yesterday, Joe was surprised to see not one offensive lineman in the bunch.
LB Quinton Alston, Iowa
RB Dominique Brown, Louisville
DT Quayshawne Buckley, Idaho
LS Courtland Clavette, Brown
DE Ryan Delaire, Towson
CB Deshazor Everett, Texas A&M
S Chris Hackett, TCU
WR Rannell Hall, UCF
LB Josh Keyes, Boston College
DT Caushaud Lyons, Tusculum
WR Josh Reese, UCF
LB Michael Reynolds, Kansas
DE Jamal Young, Jones County Junior College
Man, the Bucs are really banking heavily on their second-round rookies, tackle Donovan Smith and Division III guard Ali Marpet, who should battle Patrick Omameh for the right guard gig. (Yes, Joe knows the Bucs signed Falcons free agent tackle Reid Fragel yesterday, a guy who has never played in a regular season game.)
It's also clear Tampa Bay believes more jelling time will help the returning crew.
Joe's got all kinds of fingers crossed — and the Winn-Dixie liquor store on speed dial.