"A Liability"
May 5th, 2015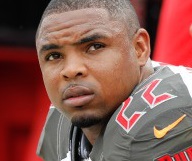 Bucs fans were treated to superior pass blocking from running backs when Earnest Graham and Cadillac Williams were performing third-down duties for Jeff Garcia and Josh Freeman.
Since their demise, life hasn't been as good, though D.J. Ware was ok in 2012.
Joe has written previously that Doug Martin's pass blocking is rough. He just doesn't look comfortable, and too often looks incompetent.
With news of the Bucs not picking up Martin's fifth-year option yesterday, former Bucs guard Ian Beckles (1990-1996) found it to be a good time to hammer on Martin's blocking. Beckles is appalled.
"But he's never been a good blocker. He's a liability as a blocker," Beckles said of Martin on WDAE-AM 620. "And if you're a liability as a blocker, teams see that, and they're blitzing you. And there's times when I see him put his head down and get swum clean, and everybody puts it on McCown. But there wasn't a lot of protection for McCown last year. There really wasn't."
Beckles went on to remark how slight Jameis Winston in person. The point was that the Bucs can't afford to get Jameis knocked around in McCown-like fashion.
Listen to Beckles' full take via the 620wdae.com audio player below.