Rookie Of The Year?
May 14th, 2015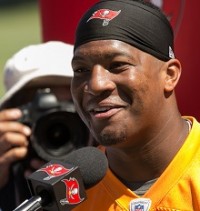 Though this may change after three preseason games (the fourth is a joke and the only reason Joe watches is because he is paid to do so), it is reasonable to expect six wins this season.
Six wins would triple last year's total. Any time you do that, well, that's an accomplishment. Joe thinks the defense will actually be better, but the offense? Sure, "America's Quarterback," Bucs signal-caller Jameis Winston, will easily be an upgrade over turnover-prone Josh McCown.
Joe is nervous about that offensive line. That's why Joe can't honestly see more wins. A rookie quarterback behind a suspect offensive line is not a good combination.
However, Evan Silva is not in this camp. The popular NFL analyst for Rotoworld.com thinks Jameis is going to be just fine this year, which may trainslate into more wins. In fact, Silva is of the mind that Jameis will be your 2015 NFL Offensive Rookie of the Year.
Jameis Winston my OROY pick. Results of his "decision making" will be much better going from Nick OLeary/Rashad Greene to MEvans/VJax/ASJ.

— Evan Silva (@evansilva) May 13, 2015
It's an interesting observation. Clearly, Mike Evans and Vincent Jackson are better than the weapons he had at Florida State. But be careful reminding Jameis of that. He gets so excited talking about Evans and Jackson, he's liable to kiss you and buy you some crab legs.
Still, young Jameis is a rookie. He might figure out Dirk Koetter's playbook, but does that mean he will be able to figure out NFL defenses?