He's Still Lunch Pail Mike
May 13th, 2015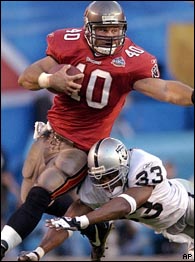 Throat was trembling, the lower lip was quivering. Eyes welling up were around the corner.
Yes, another 30 seconds of Mike Alstott highlights today at One Buc Palace would have sent Joe into a breakdown that would have made Josh McCown cry again.
Sorry, but certain memories of the glory days Bucs just melt Joe's guts.
Alstott appeared to be wavering on the verge of an emotional breakdown himself during moments of his Ring of Honor introduction speech today. Alstott will join Doug Williams in this year's class.
For Joe, one thing really stood out about Alstott. Asked about his favorite memory, Alstott explained that he cherishes most "that every day grind" of the work day as a Buccaneer, not a specific game or play.
After all these years, seconds after being lauded for his many achievements in Bucs history, after watching those highlights compiled by the Buccaneers' staff on the big screen, Alstott is savoring practice. He's still lunch pail Mike.