"I Think That Quarterback, By The Way, Is Going To Make That Offensive Line A Lot Better"
May 21st, 2015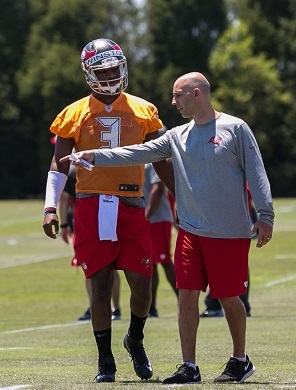 It seems Tampa Bay Buccaneers beat writer Rick Stroud believes Jameis Winston has super powers.
Stroud believes young Jameis will raise the level of play from the shameful unit of Tampa Bay football, the offensive line.
"I think that quarterback, by the way, is going to make the offensive line a lot better," Stroud bellowed on WDAE-AM 620 this week.
Joe can't go there.
The O-line is going to have to look in the mirror and right itself. Every last guy on that starting line proclaimed to love and appreciate Josh McCown, yet they played with the bite of a toothless poodle and the nastiness of a pack of girl scouts.
It's going to take more than barbecue sauce and gun-range dates to man-up and block the damn guy in front you.
No more excuse from the veterans. Block the guy you're responsible for and stop crying about who's playing alongside you and play calls. Logan Mankins, Evan (Dietrich) Smith and Demar Dotson have to at least be undeniably average starters this season.