Playbook Calls Today For Jameis Winston
May 8th, 2015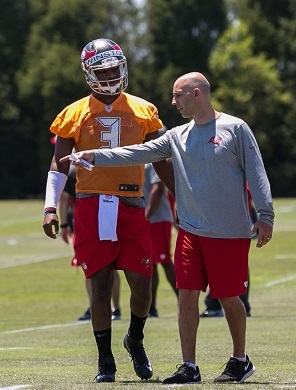 Joe absolutely loved watching some of Bucs rookie/tryout camp today alongside the seasoned eyeballs of a former Buccaneeers quarterback.
Joe learned Jameis Winston wasn't just throwing balls in drills to no-name receivers.
Of course, Joe's referencing good friend Shaun King, one of three quarterbacks to lead the Bucs to the NFC Championship game.
King pointed out to Joe that before every seemingly meaningless throw in drills — QB and one receiver, covered or uncovered — Jameis was getting playcalls from quarterbacks coach Mike Bajakian.
King explained that Jameis was, at times, throwing to the tryout/rookie receiver after going through a progression. It was evidence that Jameis diving in fast into the playbook, and the Bucs want to get him up to speed as quickly as possible.
Fun stuff.
The rather animated Bajakian and Jameis were consulting before and after every last throw. That's playbook study, not a QB micromanaging a rookie.
Yes, folks, there's little question Jameis is your Day 1 quarterback.