"Pinpoint Accuracy"
May 7th, 2015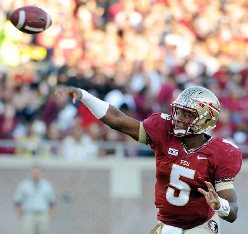 Yes, we are still talking about the draft. And why not? Bucs general manager Jason Licht suggested last week's draft may be the most important in franchise history.
Such importance warrants additional analysis.
For the spreadsheeters over at ProFootballFocus.com, Thomas Maney ran some numbers and believes the pick of Jameis Winston No. 1 overall may not be an "A," but will turn out to be a good pick when all is said and done.
Round 1: Jameis Winston, QB, Florida State

Grade: B

The expected pick here, though Winston had a pretty average 2014 season, notably struggling in games against Oklahoma State, Louisville, and Florida. But take a look at his performance in Week 13 against Boston College to see Winston at his best, which is what we saw for most 2013 when he consistently stood in the face of pressure, delivering the ball with anticipation and pinpoint accuracy. That's what made this an easy choice for Tampa, though they will have to get him back to that 2013 level.

Depth Chart Fit: It wouldn't be a surprise to see him starting Week 1 over Mike Glennon.
See? "Pinpoint accuracy." That's the Jameis that Joe knows and loves.
Given all that Joe has heard about how smart Winston is when it comes to football, and specifically offenses, it would be shock if Winston isn't starting when the Bucs open up against the Titans, barring some sort of injury, God forbid.