Mockers Like Marpet Pick
May 7th, 2015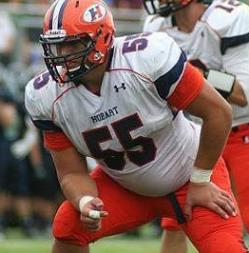 Yes, the second-round pick of offensive lineman Ali Marpet, from the noted football factory of Division III Hobart College, sure raised a lot of eyebrows.
(Anyone notice that Hobart College had as many players drafted — one — as Notre Dame?)
One reason was, of course, because Marpet became the highest selected Division III player in the history of the draft. Another reason was the trade up to get him based on intel that the Bucs, who had Marpet in their crosshairs, were about to get usurped.
But Woody Cummings of the Tampa Tribune has been busy with Google doing research and, per his findings, it seems Marpet was selected just about where a number of mockers believed he would be.
For example, WalterFootball.com's second-round mock draft had Marpet going 63rd overall to Seattle, and one of WalterFootball's scouts said Marpet would be "a great fit for the blocking scheme.''

Meanwhile, Sports Illustrated's second-round mock had Marpet going 64th overall to New England, and Don Banks wrote that the Patriots would be fortifying "their offensive line with a prospect who plays in the tough, battling style they most admire from their grunts up front.''

And Bleacher Report, in its Day Two mock, had Marpet going 72nd overall to the Rams, saying "Marpet presents value due to his versatility. The Division III product can compete to start at center or guard.''
Of course, the cynic in Joe would ask "Which mock draft from these guys?… " The mockers change their mocks almost as often as they change their socks.
But Joe gets the point Guys who make a living in football research and often base their mocks on feedback from scouts and other NFL types seem to be on the same page as Jason Licht — that Marpet was at best a late-second round pick.
It's going to be a helluva jump from glorified high school football to the highest level of football in the world in a matter of months.