Mike Glennon Is Your "Mentor"
May 18th, 2015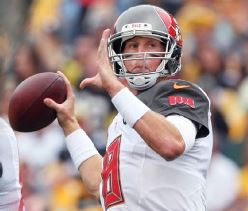 All this talk about mentors borders on nonsense. Mentor this and mentor that. Who is going to be that guy's mentor?
What the hell are you paying a coaching staff for if you need a scrub player to be coaching up a starter? Geez, folks. Quick, who was Jim Kelly's mentor? Or John Elway? Or Andrew Luck?
Was Tavaras Jackson really that much of an asset for Russell Wilson? C'mon.
But, since it is an ugly Monday morning (is there such a thing as a non-ugly Monday morning?), Joe will play along. So this season, Bucs fans can be secure in the fact that "America's Quarterback," Bucs signal-caller Jameis Winston, will have Mike Glennon as his mentor.
That's the word from Pat Yasinskas of ESPN, when asked in a Twitter Q&A what veteran will the Bucs get to mentor young Jameis? The answer is already on the roster.
@PatYazESPN: Every indication I have received is that the Bucs are content to go with Jameis Winston and Mike Glennon. Yes, they're two very young quarterbacks, but Glennon is mature and has 18 career starts. The Bucs think he can be a valuable resource for Winston and also believe he is enough of a team player to embrace a backup role. In addition, the situation on the coaching staff is a lot different this year. Last year, Josh McCown was a year older than quarterbacks coach Marcus Arroyo. The coaching staff took a major hit when coordinator Jeff Tedford needed heart surgery in the preseason and didn't return to the team. Arroyo was forced into the role as the playcaller while still coaching the quarterbacks. It made for a difficult situation for all involved. Things should be a lot smoother this year with coordinator Dirk Koetter and an experienced quarterbacks coach in Mike Bajakian.
Again, Joe is going to play along here. First, Glennon is a good dude, a good teammate. Joe doesn't expect him to give Jameis the silent treatment that, say, Brett Favre used to give his backups including Aaron Rodgers. Joe senses if Glennon was that type of guy, the Bucs may have acquired some other backup.
Glennon has enough games under his belt, and been through the fire himself as a rookie quarterback; he should be able to guide Jameis through the rough waters until young Jameis himself feels comfortable in the deep end of the pool by himself.