Matt Ryan Study Is Daily Jameis Work
May 11th, 2015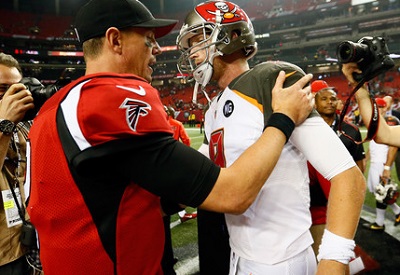 Offensive coordinator Dirk Koetter is the man choreographing the molding and maturation of Jameis Winston the football player.
(Time for a brief prayer of thanks that Marcus Arroyo has left the building.)
Koetter called the plays of the Atlanta offense the past three seasons. In 2012, he had the high-flying Falcons, about 30 yards from a Super Bowl trip.
Joe asked Koetter today whether he would be advising Jameis Winston to watch specific NFL quarterbacks on film. Koetter said Jameis will get a broad list soon, but only three are on the current radar.
"Right now, because of my recent association with Matt Ryan, we're studying some Atlanta cut-ups," Koetter said of what Jameis is looking at. "I mean we're studying Atlanta cut-ups and we're studying Tampa cut-ups. So he's seeing on tape every day a combination of Matt Ryan, Mike Glennon and Josh McCown. That's just what we're learning on."
Koetter explained that as Jameis settles in, he'll be given more current NFL quarterbacks to study.
Joe likes the blend of Ryan (good) and Glennon and McCown (not so good). It's good to have counterexamples when studying.