Licht Compares Donovan Smith To Tra Thomas
May 30th, 2015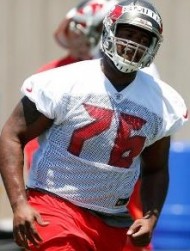 All that show and tell this week about Kevin Pamphile being the Buccaneers' No. 1 left tackle may not be what it appears.
Jason Licht hopped on NBC Sports Radio yesterday and said watching the No. 34 overall pick, Bucs left tackle Donovan Smith, sends him images of former Pro Bowler Tra Thomas, the former Florida State star and Eagles great.
Licht said Smith is "a big guy that's got great feet, it's hard to run through him and, you know, he's got deceptive quickness and he's a really smart guy. You know, Logan Mankins has control of that room as the leader, and even Logan is very excited about how this room is shaping up with him and Ali Marpet, who's a small-school guy but got tremendous ability."
The more Joe hears details of Mankins taking charge, the more Joe thinks Mankins — with a full offseason to establish a leadership hold and a barbecue regimen — might be able to raise the standards and accountability of offensive line coach George Warhop.
Bucs fans can hope.