Jason Licht On Jameis Winston Commanding The Offense: "He's Running It As If He's Been Here A Couple Of Years Already"
May 30th, 2015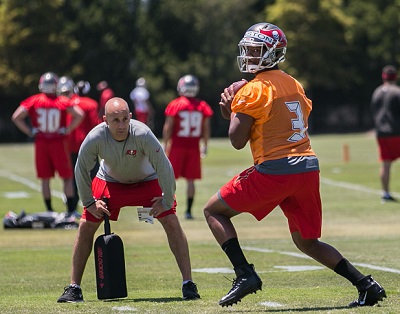 Yes, Joe's jacked up for the Tampa Bay Lightning. But for Joe, nothing right now can top fresh, amazing news on America's Quarterback, Jameis Winston.
Jameis Winston's first month as a Buccaneer is nearly in the books, and general manager Jason Licht painted a picture yesterday of a rookie acting — and playing — like a quality veteran winning over his teammates quickly.
"He's really crisp," Licht told NBC Sports Radio. "He doesn't look like a deer in the headlights like most rookie quarterbacks would. He's got a great sense of our offense already. He's running it as if he's been here a couple of years already.
"He's way ahead of the curve and he's everything we expected. And we couldn't be more excited about what he's shown us so far."
Earlier in the interview, Licht explained that Winston's devotion has been contagious.
"What really stands out is just how passionate about playing quarterback and the amount of time that he puts into it," Licht said. "He can't put his playbook down, nowadays he can't put his Surface down, and he can't watch enough tape. It just bleeds into the entire team. They see it. You can't fake that. The guys, you know, they feed off it."
The Bucs kick off the preseason in 77 days and 13 hours.