"He Wasn't Very Good"
May 21st, 2015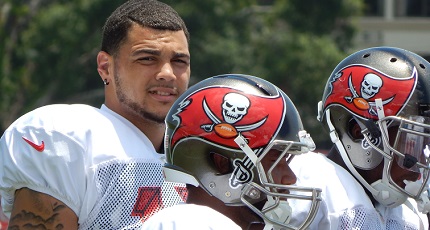 One year and one day ago, Joe remembers standing in the sweltering heat of Bucs spring practice when Mike Jenkins soared in the air for an interception a couple yards from Joe.
It was not a special play. Why? Because the intended receiver had pulled up lame with a hamstring injury.
The target was rookie Mike Evans, who Joe observed in earlier drills struggling to run a decent route. His footwork and timing looked like he didn't belong.
It wasn't just Joe's take. Cornerback Johnthan Banks was interviewed for the NFL Network airing of the Top 100 of 2015 program. Banks was part of last night's segment honoring Evans as the 75th-best player in the league. Banks noted that at the beginning of Bucs camp, "[Evans] wasn't very good."
Banks' comments are a good reminder for Tampa Bay fans seeking instant gratification from Jameis Winston, Donovan Smith and Ali Marpet, the pride of Division III Hobart College.