Fantasy Fueled Proclamation
May 24th, 2015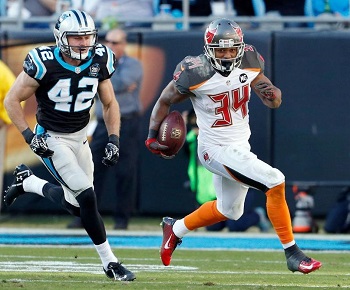 NFL.com does a masterful job overhyping the obvious in an attempt to capture the twitching eyeballs of fantasy football lunatics suffering from withdrawl.
Chris Wesseling of NFL.com just pumped out a newsy piece alerting the world that the Bucs will feature Charles Sims this season.
Really! What a surprise! (sarcasm) It's that time of year.
Of course Tampa Bay is counting on last year's third-round pick. That's a heavy investment for a running back. And Sims arrived in the NFL with the reputation of having incredibly soft and reliable hands.
The Bucs regime drafted Sims for a reason, despite Doug Martin, Bobby Rainey and Mike James in the house — and needs on the offensive line.
Lovie and friends liked what Sims delivered in two of the last three games of 2014. He also quietly caught 19 balls for 190 yards in limited action. Sims had ankle surgery in August and debuted Nov. 9. That's damn tough duty for an injured rookie, especially in a mess of an offense.
Sims really didn't impress Joe, but at least his hands were as advertised, and some speculate speedy Sims can be an NFL wide receiver. The guy could become a heck of a weapon, and a comfort zone, for America's Quarterback, Jameis Winston.
Yes, the Bucs plan to feature Sims, until he proves that's a bad idea.