"Explosive" Development At One Buc Palace
May 26th, 2015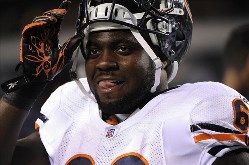 Joe really enjoys the Tampa Bay Lightning but can't bow to the hockey gods, not on this day, not on the first real day of significant practice on the heavenly fields of One Buc Palace.
Media was not allowed in, but Joe had covert drones flying overhead and operatives on the ground.
The most exciting word of the day came on the defensive side of the ball. That's where former Pro Bowl defensive tackle Henry Melton clearly was "explosive" and impressed all who took in his work.
There's some real juice to the enthusiasm for Melton, who battled injuries with Dallas last season and fizzled late in the year, but still had five sacks.
With the Bucs, Melton is slated to relieve Gerald McCoy, so GMC stays dangerously fresh. And Melton would serve as an emergency defensive end, a "swing" role he served with the Cowboys, too.
But if Melton, 28, keeps impressing and returns to his Pro Bowl form, then the Bucs could get awfully creative and unpredictable in using him and Gerald McCoy together.
Man, Joe is fired up — even if it is underwear football. And, yes, Jameis Winston, America's Quarterback, had a good first day. OTA practices continue tomorrow and are open to media Thursday.