Expectations For Winston
May 6th, 2015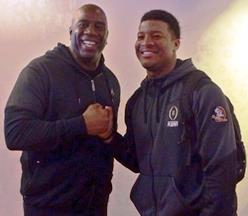 For many Bucs fans, the moment the name "Jameis Winston" escaped the draft-night lips of NFL warden commissioner Roger Goodell, images of playoff wins began dancing in their heads.
While that very well may happen while young Jameis is with the Bucs, let's not get ahead of ourselves. The reason the Bucs had the shot to choose Winston is because they were the worst lot in the NFL. One draft is not going to turn that around completely.
Also, with rare exceptions, rookie quarterbacks struggle. It's a big jump from college to the NFL. Three instances where Joe remembers rookies playing extremely well were Dan Marino, Ben Roethlisberger, Russell Wilson. Those quarterbacks happened to have found their way onto teams well-stocked with talent. Andrew Luck, Joe Flacco, Andy Dalton and Robert Griffin, III, were impressive playoff-bound quarterbacks in their rookie years.
But at least this season, Bucs fans should temper their expectations. Bucs general manager Jason Licht is.
Appearing Monday on "The Blitz," co-hosted by Bruce Murray and Rich Gannon, heard exclusively on SiriusXM NFL Radio, Licht laid out his expectations for Winston in 2015.
"I want to see Jameis play – he is going to be expected to be the starter — I want to see him play within the system," Licht said. "I want to see him be productive. But I want to see – I think we all do, we just want to see – gradual gains. And him to continue to get better and better every week, every day.

"We are not expecting Dan Marino to come out here first day. But we expect him to work and he has a tremendous work ethic. Second to none. Which helps the case and gives him a realistic chance of being a great player – a better chance than most because of his work ethic and because of his intelligence. Just to make strides every day."
Those seem like fair goals. Reasonable goals.
As Joe told his good friend, "The Big Dog," Steve Duemig yesterday, live on WDAE-AM 620, if the Bucs win six games this year, that would be nice. No, no playoffs, but that's tripling the amount of wins from the previous wretched season. That's good any year a team can triple its win total.
When leaky, sleepy Josh Freeman was a rookie in 2009, he won three of his nine starts — all three Bucs wins that year — and the following season Tampa Bay made a run at a playoff berth. It was the last time the Bucs had double-digit wins.