Emotional Akeem Spence Love
May 26th, 2015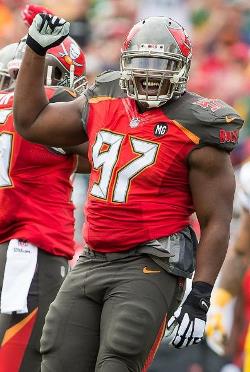 Sometimes it's not what an important Buccaneer says, it's how he says it.
Joe experienced one of those moments last week at One Buc Palace.
Defensive line coach Joe Cullen was talking about Akeem Spence and earnestly praised the nose tackle for his and performance last year.
For those punch drunk from all the losing, Spence had three sacks in five starts and backup duty.
Here's a great trivia answer: Spence had more tackles (37) last season that heralded Gerald McCoy (35), per Buccaneers.com.
"We get really good snaps out of Akeem Smith, I mean, Akeem Spence, excuse me, from Akeem," Cullen said.
Again, Cullen seemed so smitten with Spence, He even referred to him as "Smith."
Joe talked to Smith earlier this year (in case you missed it).
"I say I developed a lot, man. I came from far away," Spence said. "Especially with Coach Cullen and Coach Phair, they helped me a lot, just learning how to play the nose and be dominant at it, as opposed to last year I was just trying to figure it out, you know, being young."
Spence has been a heck of a fourth-round pick. Former Bucs rockstar general manager Mark Dominik traded up for him in 2013, and Greg Schiano pegged him as a starter in training camp.
Damn that Dominik, destroying the Bucs at every turn.