Duh!
May 12th, 2015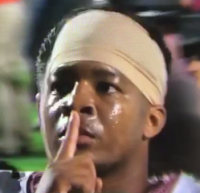 Joe is appalled that a big national stink is being made because iconic former Florida State head coach Bobby Bowden said Jameis Winston was widely considered an "embarrassment" to the university by fans and boosters.
Bowden went on to say Jameis is young enough to recover from his mistakes, and is one of the greatest players to wear the Seminoles colors.
In one form or another, these are all things Bowden has said previously.
Well, duh! Of course Jameis was an embarrassment. Living under an extreme spotlight, he did embarrassing things. His brushes with the law brought embarrassment to his school. That doesn't take away from all he accomplished, all the revenue he generated for the university, and all the good things he did.
Jameis, Lovie Smith and others would be the first to agree. This was neither news nor fresh.
It's really sad how many national media types are dying to pounce on Jameis and embarrass themselves by trying to embarrass him. That's an embarrassment.