Draft Ranks 15th; Marpet Was The Drag
May 14th, 2015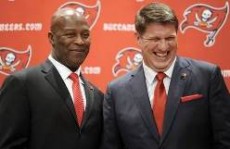 The Godfather of modern NFL Scouting, legendary Cowboys architect Gil Brandt, has weighed in on the Buccaneers draft — in a way that would make the stats geeks proud.
NFL.com compiled Brandt's pre-draft power rankings of potential picks and used that standard to rank how teams fared in this year's draft.
The Bucs were middle of the pack.
15. Tampa Bay Buccaneers:

Overview: The Bucs nabbed three Hot 100 players in the first two rounds. While QB Jameis Winston and OT Donovan Smith were drafted close to their rankings (in fact, Smith was taken 34th overall — and ranked 34th on Brandt's list), OL Ali Marpet might have been overdrafted. The Bucs traded up to take him at No. 61 overall; he was 96th on Brandt's list.
The players (points)
No. 5 QB Jameis Winston, Florida State (96)
No. 34 OT Donovan Smith, Penn State (67)
No. 96 OL Ali Marpet, Hobart (5)
You mean a guy with the pedigree of Brandt wasn't terribly high on a Division III lineman like Marpet? Imagine that.
Joe's not rooting against Marpet, the pride of Hobart College. In fact, Joe's hoping the kid breaks the mold and shocks the NFL this season, making the jump from dominating against Rensselaer Polytechnic Institute to handling the Panthers' front-7.
It's a gamble, though. As Joe's written, Jason Licht has put big footballs on the table expecting/hoping Marpet is a quality starter this season.