Chucky: "Dirk Koetter Is The Wild Card"
May 14th, 2015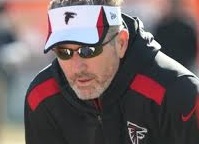 Yes, Jon Gruden, the heralded Chucky, seems to "love" about 97 percent of players in the NFL. That's his BSPN shtick. He luvvvvs that guy (insert name).
But if you can wade through all the gushing, sometimes you'll find telling kernels.
Chucky hopped on Ronnie and TKras on WDAE-AM 620 this morning and had plenty of love for Jameis Winston, slobbering over how much Jameis (all together now) loves football and is so hungry and well trained by Jimbo Fisher.
But what interested Joe was his comments about Tampa Bay offensive coordinator Dirk Koetter.
"I think Dirk Koetter is the wild card in this," Chucky said. "I think he's an excellent coach. He was a head coach in college. He did a nice job at Jacksonville. He did a nice job in Atlanta. He runs an uptempo offense. He knows how to feature receivers. Just look what he did with Julio Jones and Roddy White, and now he gets Mike Evans, Vincent Jackson; there's some good pieces in place. …

"I just think Dirk Koetter's the right guy. He's experienced. He's good with quarterbacks. He's got a track record.

"If Jameis is all ears for a while he learns his system, he'll be in good hands."
Chucky is on the money here. Koetter is a wild card, and he is a true professional at managing an attack and maximizing receivers. Julio Jones had his best season last year, catching 104 balls for 1,593 yards, and Roddy White added 900+. But Koetter also revived Devin Hester's lost receiving career, milking 38 catches from him in very part-time duty.
Yes, Koetter is an experienced hand in the passing game. And the Falcons racked up a stunning 381 points last year with a garbage offensive line and a running game worse than the Bucs'.
The mere presence of Koetter represents hope. But he'll only go as far as his quarterback takes him.