Doug Martin Talks Jameis Winston
May 15th, 2015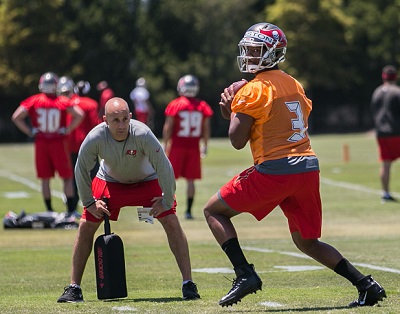 Joe watched four Buccaneers answer questions and exercise with about 150 kids in the Greenwood section of Clearwater yesterday afternoon, following Bucs officials handing over a check for $10,000 to help fund youth recreation programs. (More on the event later)
Afterwards, Joe had a chance to catch up to a sweaty Doug Martin.
The Muscle Hamster had just finished hula hooping, leading ball carrying drills and chatting up kids under sunny skies and 92 degree heat.
Naturally, the conversation found its way to America's Quarterback, Jameis Winston.
Joe asked Martin how he's bonding with the guy he'll need good chemistry with in the Bucs' backfield.
"Awesome. Awesome. I had a feeling that we'd hit it off," Martin said of Jameis. "He's very approachable; I am, as well. And you know, he's in the locker room. He's hanging out with the guys like he's been here for two, three years. So that's really cool about him and how natural that is for us."
Man, that warmed Joe's heart. Young Jameis is making his mark quickly.
Martin had one of the greatest rookie seasons in Bucs history, so Joe asked what advice Martin has for Jameis when it comes to developing quickly as a stud first-round pick thrust into the fire.
"Get in the playbooks. Study. It's not going to all come to you at one time," Martin said. "It's a process. Just stay in the film room and, you know, make sure your body's right."