Dirk Koetter Likes Doug Martin
May 4th, 2015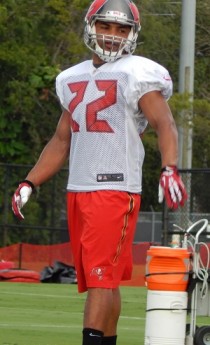 Dirk Koetter has completed his film review of the Muscle Hamster.
The reviews are good, despite Tampa Bay passing on the fifth-year option (2016) on Doug Martins' contract.
Jason Licht took to the SiriusXM NFL Radio airwaves today and explained that saying no thanks on Martin's expensive fifth contract year doesn't mean the Bucs aren't jacked up by what Martin can offer.
"Dirk Koetter, once he was tired and he started watching tape of all our players, he came away impressed with Doug," Licht said. "You saw the tape when he's healthy, he's still a very effective runner."
This jibes with what Licht told Joe at the NFL owners meetings in March. There is a lot of excitement at One Buc Palace for what Martin did in two of his last three games — 96 yards against Carolina and 108 yards against New Orleans.