Dick LeBeau Counters Lovie Smith
May 17th, 2015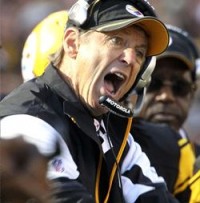 With the Buccaneers opening the Jameis Winston era against Tennessee in Tampa, Joe happily has begun his research into all things Titans.
And Joe found a telling nugget.
One damn intriguing element to the Titans-Bucs opener is new Titans defensive coordinator Dick LeBeau, a Hall of Famer who will be 78 years old before kickoff on Sept. 13. Young Jameis will be in for quite an education. LeBeau spent the last 11 seasons in Pittsburgh and his known for his innovative blitzing and 3-4 defense.
However, LeBeau told Tennessee media last week that he can't be pigeonholed, his 3-4 defense is not what people think, and he's a player-first coordinator, not a dude looking for bodies to fit his scheme.
"I would venture to say there is no one in the professional level playing 2-gap defense now," LeBeau said, per ESPN.com. "We don't. At any given snap, we may have a player or two. I don't want to get into too much, because I don't want to help the guys that are sure not going to try to help us. But we don't 2-gap. We try to utilize people's skill.

"If they are real quick, we kind of like to watch them be quick. We'll employ the type of defense that hopefully will enable our athletes to play to the best of their capability.

"I think that is the purpose of coaching. Some people would say it's to get a system and then draft people to fit a system. And that takes a few years. Some of us maybe don't have a few years. We try to accentuate what our players can do, and I think we have some players that can do some things."
Those takes struck Joe because they are nearly the polar opposite to Lovie Smith's philosophy. Lovie's all about his scheme, employing "stern teachers" as assistants, and finding guys that are perfect fits.
Make adjustments on defense? Lovie's no fan of sweeping tweaks and changes.
This presents a very different build-up to opening day for Marcus Mariota. He'll be able to watch film and essentially know exactly what to expect. Jameis? He'll just have to be a half-step smarter than LeBeau.
Damn, Joe can't wait for opening day.