Derrick Brooks Apologizes
May 25th, 2015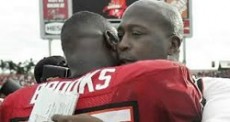 Twitter is a wild universe, a force for good and evil and knowledge and stupidity. You can join Joe there anytime.
You can find Buccaneers legend Derrick Brooks there, too.
Brooks, who doubles as president of the Tampa Bay Storm, took to Twitter this weekend to apologize for the seal-clubbing suffered by his team on Friday night, a 71-27 loss to Philadelphia. The Storm fell to 3-5 on the season.
Our @TampaBayStorm Celebrating Military Night was great except our team on the field.Apology 2 our fans & We will hang together and respond!

— Derrick Brooks (@DBrooks55) May 24, 2015
How about that! A nasty beating at home and minutes later the big boss, a guy with a hand in personnel, is publicly apologizing.
This got Joe thinking about the brutal national humiliation the Buccaneers suffered in Atlanta last September, and then the historic home throttling by the Ravens in October, when Tampa Bay trailed 38-0 at halftime.
Was there a public apology like Brooks gave? Joe doesn't recall anything quite like that, or really anything close. All Joe can think of is similar comments from Jason Licht on the Buccaneers Radio Network pregame show before the following game.
Joe likes the mindset and assertiveness of Brooks. Very refreshing.