Confusing "Depth Chart" Chatter
May 29th, 2015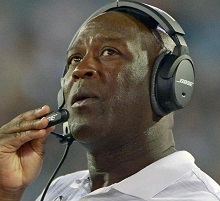 Joe is here to dissect every last word out of the mouth of Lovie Smith.
Lovie is the Buccaneers equivalent of the President of the United States.
Every word matters. So it intrigued Joe when Lovie seemed to struggle with talk of a depth chart yesterday.
Last spring, Lovie repeatedly referenced how he has a "starting rotation" for every position. But it now seems he's abandoned that phrase and hasn't settled on something new.
Consider the following: Lovie said yesterday that Doug Martin is a "first-team" running back, "like he has always been." But later when talking about running back Charles Sims, Lovie said, "We don't really have a depth chart, per se."
To add to the confusion, Lovie acknowledged, after a question from Roy Cummings of The Tampa Tribune, that Jacquies Smith and George Johnson are now the first-team defensive ends, left and right, respectively.
And when asked about second-year former "milk cartons," offensive tackle Kevin Pamphile and right guard Kadeem Edwards, working with last year's starters on the offensive line, Lovie said, they were "next up on the depth chart to get an opportunity."
It's easy to say that opening day is all that matters. But that's not quite reality.
Coaches need to establish a pecking order and who will compete to oust the first-teamers. That really starts in training camp, and partially starts right now, when some positions compete against others despite the absence of pads.
Joe's not sure why Lovie seems to be struggling to name his current first team, or just say that there are no first teamers other than the obvious studs on each side of the ball.