Chemistry Lessons
May 26th, 2015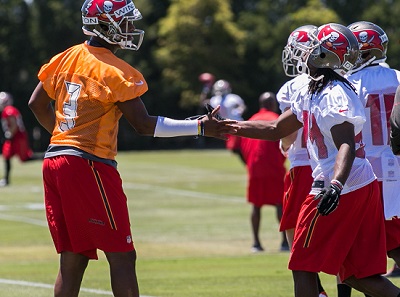 Today is a massive day at One Buc Palace.
In many ways, it'll be the first real practice for Jameis Winston. It's too bad media won't be able to watch and hype the glory of America's Quarterback.
Most NFL teams are launching their "OTA" sessions today, which means players are in helmets and allowed to play 7-on-7 and 11-on-11, etc., against each other without hitting. Very little of this is real football, but receivers flanked by cornerbacks, and quarterbacks throwing balls on time and in rhythm, are as close as it gets.
Jameis will begin to build critical chemistry with Vincent Jackson and Mike "Phi Slama" Evans, and Austin Seferian-Jenkins, if he can stay healthy.
There will be plenty of other targets looking for first-team work, such as Louis Murphy, Robert Herron and rookies Kenny Bell and Kaelin Clay.
Joe's been told the goal is to give Jameis as much work as possible. So Joe expects Jameis to throw to everyone. Mike Glennon and Seth Lobato will clean up what's left.
It's hard for a QB, especially a rookie, to not have a favorite target. Jameis was guilty of that with Rashad Greene at Florida State. Chucky had fun point that out to young Jameis repeatedly during "Gruden's QB Camp."
Joe looks forward to being out there with other media on Thursday. Perhaps Jameis will have a favorite by then.