Bucs Will Roll With No-Name Rush
May 2nd, 2015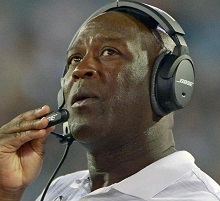 George Johnson, T.J. Fatinikun, Larry English, Lawrence Sidbury — it's the Bucs' fearsome foursome at right defensive end.
No, the Bucs haven't drafted an edge rusher.
It's official, barring a shocking summer move, the Bucs will roll with that cast to strike fear on the blind side of NFC South quarterbacks.
Last year, Lovie Smith invested mega dollars at RDE with ghastly, ghostly Michael Johnson. This year? The Bucs invested little after cutting Johnson.
George Johnson has six career sacks. Fatinikun is a young guy who flashed a little last year. English is an historic Chargers first-round bust. Sidbury is a six-year veteran with five total sacks.
Lovie is happy to say his defense requires that edge rush. That's why he paid Michael Johnson, and Julius Peppers in Chicago in 2010, and coughed up a second-round pick for Gaines Adams in 2009. But the new chatter from One Buc Palace is the Bucs are banking more on their inside rush this season.
Teams aren't built in one draft. It's probably going to take another draft — and offseason — until the Bucs defense is scary good.