Bucs GM Says It's Doug Martin's Job To Lose
May 31st, 2015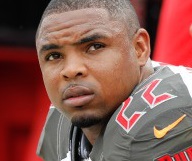 Lovie Smith said Doug Martin was a first team running back last week, but then Lovie backed off that moments later and said there was no depth chart, during a chat with media about second-year RB Charles Sims.
Perhaps things have changed.
Bucs general manager Jason Licht joined NBC Sports Radio on Friday and was asked point blank if the starting running back job is Martin's to lose.
"You know what, it is," Licht said.
"Doug has never looked better," Licht added, before explaining that Dirk Koetter has been very high on Martin since he arrived and reviewed Martin's film.
Licht also said the Bucs will look to use multiple backs, and said Charles Sims has shown his talents early in spring practices. "He's a very explosive athlete with great hands."
Bobby Rainey has "great shake," Licht said, and he added Rainey is "tough to tackle in space and he's got great hands.
"So those three right there, I think that's a pretty good combination."