Bowden Reponds To Jameis Uproar
May 13th, 2015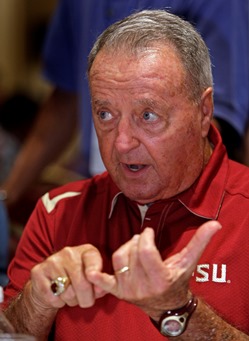 Joe isn't sure how much former Florida State head coach Bobby Bowden, 85, noodles around on the Internet, but the man sure knows how to set the Twitterverse ablaze, as if he was calling a digital puntrooskie.
Yesterday, Bowden threw lighted matches on the Internet gas can by claiming America's Quarterback, Bucs signal-caller Jameis Winston, was considered an "embarrassment" to Florida State University due to his immature pranks. Bowden's remarks were made on the notorious "Paul Finebaum Show," seen on SEC Network and heard throughout the southeast on select radio stations.
After the interview, Safid Deen of the Tallahassee Democrat caught up with Bowden for further feedback. Bowden claimed he was only being upfront with Finebaum.
"No. 1, Finebaum called me and asked me my opinion," Bowden said. "And I think my statement was … that I felt like a majority of the alumni and boosters were probably embarrassed by some of the things that happened.

"Now that's no different than it was when I was coaching. Every time one of my boys got into trouble, I'm sure it embarrassed our people. So I don't see anything strange about that. I think all alumni, when they read the paper and see one of their players do something way out of line, I'm sure it's a little embarrassing if they have any pride in the university."
Again, Joe had zero issue with what Bowden said — he was right — with his original comment and Joe has no issue with Bowden's follow-up comment. Even Jameis would agree.
Once again, Bowden has had harsher words for Jameis.