"Block Longer"
May 22nd, 2015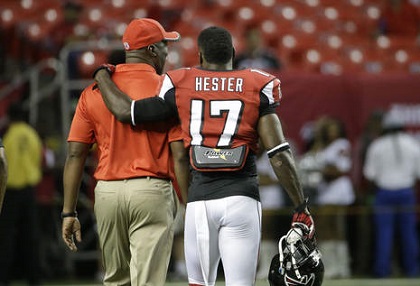 Being the NFL's eighth-best punt return team two years in a row isn't good enough.
Lovie Smith wants Tampa Bay to recreate his Chicago magic.
During the final season of the New Schiano Order, second-year man Eric Page and the Bucs were No. 8 in the league, averaging 11.2 yards per punt return. Tampa Bay had no use for Page last year and turned to rookie Solomon Patton. He was bounced in October and later returned. The Bucs finished at 10.8 yards per return, again eighth-best in the NFL.
Not good enough.
Arguably college football's best returner, Kaelin Clay was just drafted in the sixth round, and it's his job to lose.
Bucs special teams coordinator Kevin O'Dea told Joe and other media types this week that the Bucs' scheme is on the money, they just need more juice or better blocking.
"We averaged – we were eighth in the league in punt return (average), so that means the scheme works. What we have to do is we have to block longer. If we don't have a guy that can take it to house, if you stay on your guy, he'll get to the house," O'Dea said. "That's the bottom line. So all of us, it goes back to all of us, not just one returner. We had five guys last year do it. Doesn't matter. I don't care who the guy is back there. We have to get him in the end zone and that's my mindset to transfer to those guys. That's really what I want."
After all those years with Devin Hester, Lovie Smith has a very high expectations for his returners, and he believes a returner can win him games. It sure makes you wonder why Lovie didn't sign Hester last offseason. Regardless, Clay likely won't be able to complain about bad blocking. He's just going to have to hit the holes — if he can find them.