Bigger Targets = More Success?
May 6th, 2015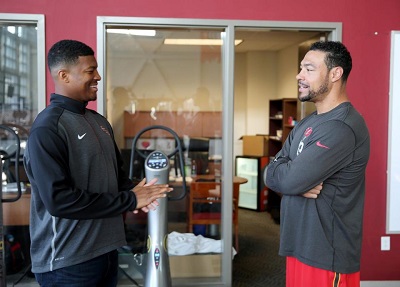 Last weekend was an absolute blur. First, the draft is one of Joe's busiest times of the year. It flies by. That's a good thing.
It was made memorable (historic?) by the Bucs selecting Jameis Winston first overall. Finally, a quarterback!
Now some folks criticize Winston for being too aggressive at Florida State. First, that is nonsense. Seminoles coach Jimbo Fisher wanted Winston to be aggressive. Who the hell do you think was calling the plays?
Of course, pushing the envelope may have developed bad habits — Winston's apparent non-fear of picks. Winston critics believe this will come back to bite him in the arse in the NFL.
Evan Silva is not among them. The NFL analyst for Rotoworld.com believes Winston's Tampa Bay targets are a perfect marriage for a gunslinger like him.
Jameis' aggressiveness should have better results with VJax (6'5/241) & Evans (6'5/231) than Rashad Greene (5'11/182) & N OLeary (29″ arms).

— Evan Silva (@evansilva) May 4, 2015
Let's not forget that Austin Seferian-Jenkins is also a big dude, too.
This an interesting observation. Winston's targets are bigger (and better, clearly) than what he threw to at Florida State.
Of course, the defensive backs covering Winston's new targets will be a whole lot better as well.