A Bolts Life
May 21st, 2015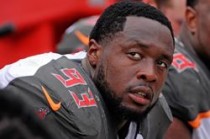 Contrary to popular opinion, Joe ventures from the JoeBucsFan.com world headquarters and enjoys what the Tampa Bay area has to offer outside of football, Hooters and Hooters Calendar shoots.
And Joe's travels this morning revealed a town that had no use for football.
Everywhere Joe went, from two coffee shops, a car dealer, a school bus stop, Tampa airport and beyond, people of all ages and sexes were buzzing about the Tampa Bay Lightning.
Not a peep about Mike Evans' big honor last night. Not a whisper about America's Quarterback, Jameis Winston. Joe couldn't even find anyone celebrating Tavarres King.
Joe loves it. The Lightning success is good for the Buccaneers. Joe hopes the Bolts take their electric play all the way to Stanley Cup glory.
A Lightning championship would put extra pressure on the Bucs to win. It's one thing to go 6-10 and be the best team in town. It's another thing to be 6-10 in a city with a champion in another sport, a feisty entertaining champion that's captured the hearts of fans.
Joe wants to see good football. As Joe Twittered last night, perhaps Lovie Smith could rope Tyler Johnson into talking to the Bucs offensive line about playing hungry and nasty.