Winless Bucs In 2015?
April 23rd, 2015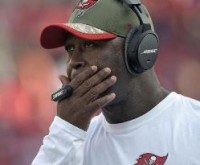 Damn, Joe thought with an upgraded defense, and a franchise quarterback (finally), the Bucs would pull themselves out of the worst record in the NFL next season.
They certainly couldn't be worse than their 2-14 season last year, could they?
Well, it seems quite a few folks at ESPN wouldn't be shocked. While Bucs correspondent Pat Yasinskas has the Bucs going 8-8 next season — a huge turnaround — his comrades at the four-letter are not so generous.
In fact, it seems they think the Bucs will be winless.
But it turns out I'm in the minority when it comes to our NFL Nation reporters. We all had to do game-by-game picks. Just out of curiosity, I decided to check what the other reporters picked for each week on Tampa Bay's schedule. It turned out to be quite a surprise.

If you go by what the other NFL Nation reporters think, the Bucs are headed for an 0-16 season.
This is borderline absurd. The Bucs lost so many close games last year and had garbage for a quarterback and virtually nothing from defensive linemen who didn't go by the name of "McCoy."
If this did happen, the Bucs going winless, not only would Lovie Smith's job be in dire jeopardy, but Joe would join the "trade-down" crowd (for 2016). That's because Tampa Bay already would have found its quarterback savior.