What About Rest Of Draft?
April 14th, 2015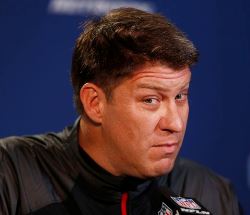 Yes, it sure looks like the Bucs will get a quarterback in just over two weeks, when the 2015 NFL Draft gets underway on the night of April 30.
And it is a safe bet the name called by Roger Goodell for Tampa Bay will be Jameis Winston.
However, that is just the beginning. What will the Bucs do through the rest of the draft? Woody Cummings of The Tampa Tribune has an idea, as he told Tom Veit of WHBO-AM 1040. And you can sum up his answer with two positions.
"[Free agency] did not address offensive line or defensive end and I think that's where they go," Cummings said. "I think that's what the next two rounds if not next three rounds are aimed at. I think that is what they are looking to pick up in the next couple of rounds. Certainly, some kind of an offensive lineman and a defensive end.

"I wouldn't be surprised if they tried to move back up into the first round to get a defensive end. I think they can wait on the offensive line whether it is a guard or a tackle. There is not a lot of great left tackle prospects. There are some right tackle prospects that you can certainly get in the second round and maybe in the third round, guys that can certainly step in. There are certainly guard options they can get early on and take a swipe at. I think that is where the early rounds at."
Joe would be stunned if the Bucs don't make those two positions a priority after quarterback.
But there are differing opinions at the JoeBucsFan.com headquarters as to how this develops. One Joe, looking at the talent level in the draft of both positions, sees great value in the middle rounds for offensive linemen and that the draft is top heavy with defensive ends, therefore, the Bucs will go defensive end with their second pick.
The other Joe thinks this is nonsense, that with a rookie quarterback, drafting an offensive lineman is paramount. Thus, that is what the Bucs will select with their second pick.