Video Of David Cornwell Address
April 11th, 2015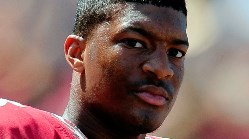 Yes, the Interwebs went wild yesterday when Jameis Winston's lawyer, David Cornwell, mentioned his client, while ready to play in the NFL, may not be mature enough to deal with the NFL lifestyle.
He also added that most young men are not.
Naturally, people from all walks of life went bananas, certain this was a revelation to the Bucs and the NFL, and all but dooming the Bucs (or another team).
So, here is the video of Cornwell's question-and-answer session, courtesy of Villanova University. It includes scathing words for the woman who claimed Winston got too handsy with her one night, and her legal counsel.
"I doubt that Jameis is the first NCAA athlete to get a free meal," Cornwell said. "And I doubt he is the first NCAA athlete to demonstrate that he is immature and a knucklehead. Jameis is ready to be an NFL quarterback on the field. But he is not ready to be an NFL player off the field. I spoke to Mike Mayock a couple of weeks ago and Mike said, 'He just strikes me as so immature.' My response was, 'Why is that news? Why is that news?'

"One thing we have to do is pull back the veil and admit the truth: With the growth of sports as an industry in America, we have gotten to the point where there is an inverse relationship between athletic skills and life skills. Because as soon as we see someone has some prowess, even at the youth level, we tend to focus on their athletic development and apologize for their development as people.

"Consequently by definition, if they are good enough to play in the pros, then it is likely — again, a generalization — it is likely that the delta between athletic and life skills is the greatest among these individuals."
After the symposium, Cornwell clarified his comments to Zach Berman of Philly.com.
"I don't think Jameis is unique," Cornwell said in an interview after the symposium. "Frankly, while there's different degrees of readiness, I think the vast majority of all the young men being drafted into the league are not ready for the NFL life, which is why we have the resources with the NFL rookie symposium, the player engagement, and advisers like us, family, to be around this young man.

" . . . Let's pull back the veil and stop pretending – sensational headlines notwithstanding – today, he's got ground to cover to be ready for this world. . . . It's not going to happen overnight. He'll learn."
Look, was Cornwell talking in generalities, of course he was — he admitted on video he was — and later said Winston will learn.
Cornwell then took to Twitter stating this should not be an issue for Winston as the NFL has structure.
Jdubb is not unique. Issue of readiness is why we have #nfl rookie symposium n the resources of #nfl player engagement. Jdubb will b fine.

— David Cornwell (@wmdavidcornwell) April 10, 2015
Sorry, Joe doesn't think this is the NFL's version of the Pentagon Papers. Cornwell's words were not taken out of context. If it is true that the Bucs launched the most comprehensive investigation in NFL history on Winston, then none of this should come as a surprise.
Remember, it is the Silly Season in the final days before the draft. There is way too much down time. First, we had Mike Mayock demoting Winston in his rankings while admitting in the same breath he believes the Bucs will pick him. Then we had the Yahoo! Sports suggestion that Darcie Glazer Kassewitz, a co-owner of the Bucs, has reservations about Winston. Now, Cornwell confesses Winston, 21, is immature like many athletes.
This is a shock? Really?
What Joe found equally if not more interesting in the video is Cornwell destroying BSPN, the New York Times and others for what he deemed as grossly biased coverage of the legal investigation into false charges against Winston, and the aftermath.
Less than three weeks to go until the draft.