Trey Flowers In Round 3?
April 23rd, 2015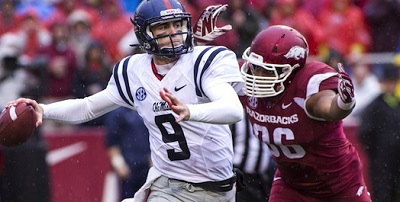 Former Tampa Bay tight end and current ESPN college football analyst Anthony Becht has been diving into game film and is all pumped up about an SEC pass rusher he thinks the Bucs could use immediately.
That would be Trey Flowers, the Arkansas senior defensive end.
Becht hopped on WDAE-AM 620 this morning and raved about the guy and how he could help the Bucs as a possible third-round pick.
"I watch his tape. The more I watch him, he's a guy who could come in right now and just finish. He's a finisher. Every single play is on the field," Becht said.
A "great speed-to-power rush," as Becht labeled Flowers, sure would be a bonus for the Bucs. Flowers, if as advertised, should at least be able to compete with the likes of T.J. Fatinikun, Larry English, George Johnson, Jacquies Smith and Lawrence Sidbury, the defensive ends Lovie glowed about this offseason.
Joe liked the this story, via SaturdayDownSouth.com., on Flowers getting screwed out of the All-SEC First Team honor this year.
Ironically, NFL.com's draft analysis likens Flowers to Adrian Clayborn, the guy the Falcons are hoping can revive their edge rush.