"They Brought Up A Fight That I Was In In The Fourth Grade"
April 13th, 2015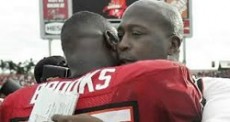 The Buccaneers want to deliver you a picture of how intensely they research NFL Draft prospects.
Yes, they want you to know that no stone is unturned.
Consider this super cool draft preview featuring various Bucs greats and other players, like Austin Seferian-Jenkins. It's a Buccaneers.com look at the pre-draft scrutiny, all wrapped in a very fancy video production.
"They brought up a fight that I was in in the fourth grade," said Bucs icon Derrick Brooks, laughing about his NFL Scouting Combine experience. "I never got suspended. I got, it was probably the only time I got disciplined in school."
Bucs general manager Jason Licht pulled back the curtain on his combine-interview approach.
"[Prospects] become so rehearsed and so schooled-up on how to answer questions. So, you know, you want to get'em relaxed, but then you want to start bombarding them with questions. So they don't have time to think about it," Licht said.
If Joe were a conspiracy nut, then this video would represent setting stage for fans to feel comfortable with Jameis Winston, but Joe won't go there.
Enjoy the video.